Welcome to the IEEE NSW Section
The IEEE New South Wales (NSW) Section provides local activities and services to IEEE members who live, work and visit us in New South Wales, Australia. We also support the activities of the NSW Chapters listed on the left of the screen as well as the GOLD (Graduates) and Life Member affinity groups. The NSW Section Committee meets at 7.00pm on the first Monday of every month at North Sydney TAFE, Gore Hill (Excluding School holidays - when we make alternate venue arrangements).
IEEE NSW is the oldest Section in Australia.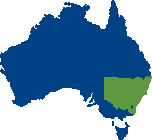 Free e-Books and Webinars
In response to one of the top ten most important Sections Congress recommendations in Quebec, Member and Geographic Activities (MGA) in partnership with IEEE-USA has formed an Ad Hoc committee on Globalization of Professional Activities (IEEE GPA). The IEEE GPA committee is represented by volunteers from all Regions and IEEE Staff. It is chartered to look into providing similar member benefits enjoyed in Regions 1-6 to members across all Regions.

IEEE GPA has identified two existing products that can be extended as an immediate member benefit to Regions 7-10. A webpage on the IEEE-USA website has been recently launched to offer for free 4 e-book titles and access to archived webinars on a variety of topics to all IEEE Members.

Check the free e-books and archived webinars out at: http://www.ieeeusa.org/careers/gpa/

The Career webinar series are career building strategies to guide members in their job search, career enhancement, salary scale determination, and understanding of ethical considerations in the workplace. These are very relevant topics affecting members in our current global environment.

eBooks are downloadable portable document format (PDF) files. Check out the many titles available on career and policy issues. Some titles are available as free member downloads, and most are available at heavily discounted member rates.

In our continuing efforts to better understand the professional needs of members outside the US, IEEE GPA welcomes your comments, ideas and suggestions on how we can help you with your professional development. Please send them to us at: This e-mail address is being protected from spam bots, you need JavaScript enabled to view it

By the end of the year, the IEEE GPA Committee will present to the IEEE Board of Directors its report and actions to be implemented to meet this challenge of providing similar benefits of local relevance worldwide.