IEEE Orlando Section Monthly - Vol. 49, No. 01 - January 2016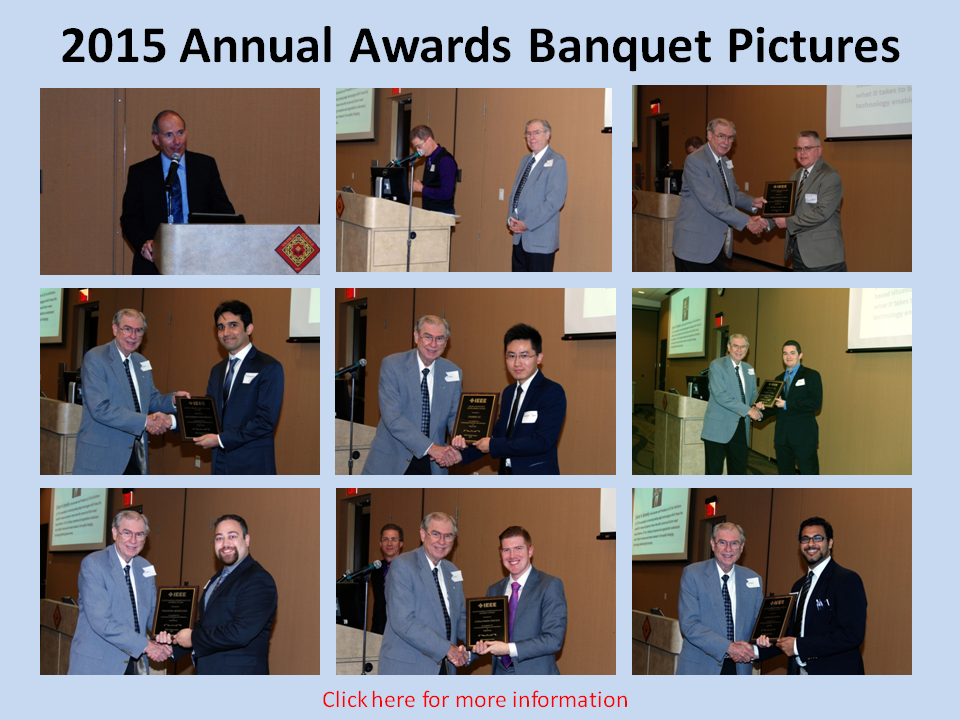 Section/Society Chapter/Affinity Group Events
Section News
Reports/Newsletters
Member Recognition
IEEE Conferences/Annual Meetings/Courses
Other IEEE News/Events
---
Date: Tuesday, January 12th, 2016
Time: 6:30 pm - 7:00 pm: Social and Dinner; 7:00 - 8:00 pm: Executive Committee Meeting
Place: Community Meeting Room at the Fashion Square Mall, Orlando, FL 32802
Directions: Go to Mall area using the entrance driveway which is just behind Sears Roebuck (when you come East off of Maguire Blvd.). Park in parking garage at its far East end. From there walk East. Go in entrance by "Planet Fitness." Turn left into a hallway. The Community Room is on the left side. (click here for map)
Cost: Meeting attendance is free to all IEEE members and Non-IEEE members.
RSVP: Ravi Rajaravivarma, ravi.shrees@gmail.com, tel. 860-967-4845.
Website: www.ieee.org/orlando
---
The 2015 Section Elections were held electronically through the IEEE vTools.Voting platform from 12 November 2015 through 7 December 2015. Paper ballots were sent to section members who do not have a registered e-mail address with the IEEE. The following results were returned electronically and on paper:
| Position | Candidate | Votes | % of Vote |
| --- | --- | --- | --- |
| Chair | V. Ravi Rajaravivarama | 39 | 100 |
| Vice-Chair | Lynn Guthrie | 39 | 100 |
| Secretary | Joseph Lias | 38 | 100 |
| Treasurer | Rui Tang | 38 | 100 |
The Nominations/Elections Committee, formed by Joe Juisai, Scott A Clary and Steve Hepburn, on 8 December 2015 certified the election results. The committee found no issues or anomalies with the running of the election and certifies the results of the election. The Elections Committee thanks the EXCOM for the opportunity to serve the section.
---
The IEEE Orlando Section congratulates our new Senior Members:
Victor Alas
Jeffrey Dierker
Robert Jackson
Gordon Merritt
Yiliu Wang
The last A & A Review Panel meeting was held on 21 November in New Brunswick, NJ. The next Senior Member Review Panel Meeting will be held on 13 February 2016 in San Diego, California.
For details on how to apply for IEEE Senior Member grade and view the 2015 review panel meeting dates, visit the IEEE Senior Member homepage. For Senior Member inquiries, contact: senior-member@ieee.org
Helpful Senior Member web links:
Identify members you wish to recruit for senior membership elevation:

Volunteers with access to SAMIEEE can run a predefined query - Senior Member Upgrade - 1st Level Requirements.

Click on Access SAMIEEE (systems asks twice)
Log in with IEEE username/password
Click on catalog
Double click on Shared Folder
Click on SAMIEEE
Click on Geographic Predefined Queries
Click on (GEO) SM Upgrade - 1st Level Requirements
---
Do you know what the IEEE Member Discounts program does for IEEE members? Here are some important facts about this program:
More than 70,000 IEEE members use at least one of the benefits in the Member Discounts program.
Member Discounts products and services are supported by contracts between IEEE and providers, vetted by the professional staff and volunteers.**
Member Discounts help to support the personal and professional needs of IEEE members throughout their careers, and are portable when they change employers.
Not all Member Discounts insurance plans and product discounts are available in every country; however, members can find many benefits available in a number of countries, with more being added each year. In fact, the insurance program now spans 84 countries!
Member Discounts are promoted at no cost to any member and more than $5.3 million in annual non-dues revenue from these programs benefit members worldwide.
Discover what IEEE Member Discounts can offer you. The Member Discounts portfolio consists of insurance products and programs for the home, office and travel, all at excellent group rates and reduced pricing. Visit IEEE Member Discounts to see what's available in your location and enjoy the savings.
** We can assist with developing local benefits, too. Contact L.Koblin@ieee.org for more information.
---
You have received this mailing because you are a member of
IEEE Orlando Section
.
To unsubscribe from section/chapter eNotices, please log into eNotice subscription form.
If you need assistance with your eNotice subscription, please visit: https://supportcenter.ieee.org/.
---