IEEE Orlando Section Monthly - Vol. 50, No. 9 - October 2017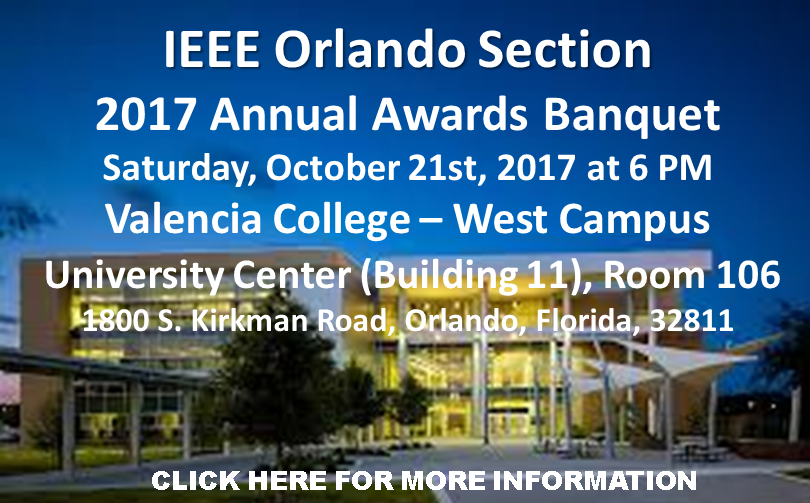 Section/Society Chapter/Affinity Group Events
Section News
Reports/Newsletters
IEEE Conferences/Annual Meetings/Courses
Other IEEE News/Events
---
The IEEE Orlando Section has scheduled a WebEx for Wednesday, October 4 at 7 p.m. ET for 30 minutes to briefly discuss the following topics:
Confirmation of the Officer Nominations Slate
Dissolution of the current Nominations Committee to transition as the Elections Committee
Awards Committee Review of Applicants
Initial Budget (per OM)
Confirmation of locations for next three meetings
Banquet Logistics
Join WebEx meeting
Meeting number (access code): 920 564 140
Meeting password: MeetHere

Join by phone
1-877-668-4493 Call-in toll-free number (US/Canada)
1-650-479-3208 Call-in toll number (US/Canada)
Global call-in numbers | Toll-free calling restrictions
Any questions about this WebEx meeting please contact:
Joe N. Juisai
joe@juisai.name
Joe.Juisai@IEEE.org
---
The IEEE Orlando Section Nominations Committee is currently seeking qualified candidates to be considered for positions on the 2018 Section Executive Committee during the annual election. Nominations are now being accepted for the positions of Section Chair, Section Vice Chair, Section Secretary, and Section Treasurer. The term of service is one year beginning on January 01, 2018 and ending on December 31, 2018. See the IEEE Bylaws and IEEE Orlando Section Operating Procedures for more information regarding candidate requirements and position descriptions. Interested individuals should e-mail the Nominations Committee to schedule an information session and interview. For additional information please e-mail Scott Clary at scott.a.clary@lmco.com.
Nominating Committee:
Scott Clary (scott.a.clary@lmco.com)
Joe Juisai (joe@juisai.name)

Mike Orlovsky (mcorlovsky@ieee.org)
---
Do you know what the IEEE Member Discounts program does for IEEE members? Here are some important facts about this program:
More than 70,000 IEEE members use at least one of the benefits in the Member Discounts program.
Member Discounts products and services are supported by contracts between IEEE and providers, vetted by the professional staff and volunteers.**
Member Discounts help to support the personal and professional needs of IEEE members throughout their careers, and are portable when they change employers.
Not all Member Discounts insurance plans and product discounts are available in every country; however, members can find many benefits available in a number of countries, with more being added each year. In fact, the insurance program now spans 84 countries!
Member Discounts are promoted at no cost to any member and more than $5.3 million in annual non-dues revenue from these programs benefit members worldwide.
Discover what IEEE Member Discounts can offer you. The Member Discounts portfolio consists of insurance products and programs for the home, office and travel, all at excellent group rates and reduced pricing. Visit IEEE Member Discounts to see what's available in your location and enjoy the savings.
** We can assist with developing local benefits, too. Contact L.Koblin@ieee.org for more information.
---
You have received this mailing because you are a member of
IEEE Orlando Section
.
To unsubscribe from section/chapter eNotices, please log into eNotice subscription form.
If you need assistance with your eNotice subscription, please visit: https://supportcenter.ieee.org/.
---