IEEE Orlando Section Monthly - Vol. 51, No. 2 - February 2018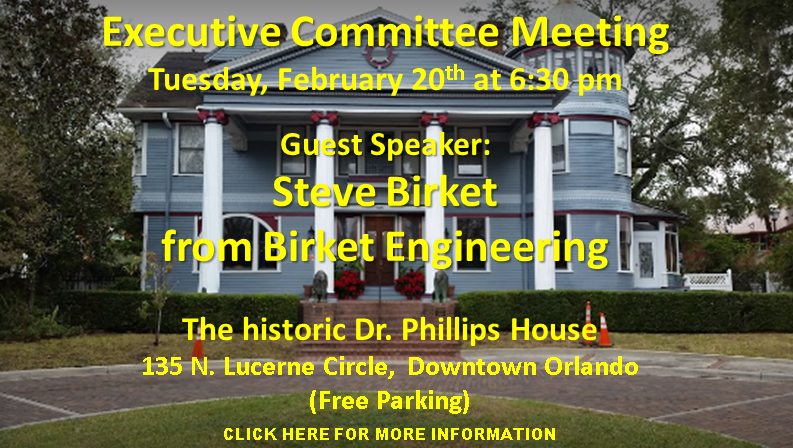 Section/Society Chapter/Affinity Group Events
Section News
Reports/Newsletters
Member Recognition
IEEE Sponsored Events
Other IEEE News/Events
---
Topic: Come celebrate National Engineers Week and congratulate fellow IEEE Orlando Section Member and winner of the 2018 IEEE Region 3 Outstanding Engineering Educator Award: Scott Clary
CS/RA/SMC Chapter's Technical Guest Speaker: Steve Birket of Birket Engineering
Date: Tuesday, February 20th, 2018
Time: 6:30 pm - 7:00 pm: Social and Refreshments; 7:00 - 8:30 pm: Executive Committee Meeting
Place: The historic Dr. Phillips House at 135 N. Lucerne Circle in Downtown Orlando (Complimentary Parking Available)
Cost: Meeting attendance is free to all IEEE members and Non-IEEE members.
RSVP: Deb Hall, dhall@valenciacollege.edu .
Website: www.ieee.org/orlando
A non-profit organization, IEEE is the world's largest professional association for the advancement of technology.
---
The IEEE Orlando Section congratulates our new Senior Members:


Conrad Andrew
Qi Junjian
Brizel Kenneth
PiperSamuel
Gurupur Varadraj
The last A&A Review Panel meeting was held on October, 2017 in Phoenix , AZ.
For Senior Member inquiries, contact:
senior-member@ieee.org
Helpful Senior Member web links:
Identify members you wish to recruit for senior membership elevation:

Volunteers with access to SAMIEEE can run a predefined query - Senior Member Upgrade - 1st Level Requirements.

Click on Access SAMIEEE (systems asks twice)
Log in with IEEE username/password
Click on catalog
Double click on Shared Folder
Click on SAMIEEE
Click on Geographic Predefined Queries
Click on (GEO) SM Upgrade - 1st Level Requirements
---
The Orlando Section is currently seeking volunteers for Section Treasurer, Chapter Officers and Committee Officers. Interested individuals should e-mail the Section Chair Deb Hall at, dhall@valenciacollege.edu to schedule an information session and interview.
---
If any of our IEEE members get an opportunity to visit a Central Florida K-12 classroom sometime during Engineering Week to talk about what they do within their career field or to bring in some fun, hands-on, engineering related activity into the classroom that helps to motivate students to think about pursuing a career related to engineering and technology, the IEEE Orlando Section would love to hear about it!

So much so that if our IEEE members send in a photo of themselves volunteering within the K-12 classroom during Engineering Week, we will post their photo on our IEEE Orlando Section web page and mail them a FREE IEEE T-shirt to wear the next time that they volunteer within the community

Thanks in advance for helping to motivate young minds to become enthusiastic about the exciting engineering and technology related career opportunities that await them! Make sure to send in your T-shirt size and preferred home mailing address along with your Engineering Week volunteer photo to orlando@ieee.org
---
The Science Challenge is held each year as a follow-on to the county science fairs. The winners in each category are invited to take part in the Science Challenge. The event is held at the Orlando Science Center on Saturday, March 10th from 7:30 AM till 2 PM. A lunch is provided for the judges. The awards are presented on Saturday at 2 PM.
If you are interested please provide your name, and an e-mail address so we can contact you. A data package will be e-mailed to you mid February detailing all information for the Science Challenge.
I am looking forward to hearing from you and working with you on this project.
If you know anyone who would like to get involved judging this event or any other event, please forward this e-mail to them.
Marty Galassini, Judging Coordinator for the OSC Science Challenge
martin8367@aol.com or 407-349-9715.
---
Do you know what the IEEE Member Discounts program does for IEEE members? Here are some important facts about this program:
More than 70,000 IEEE members use at least one of the benefits in the Member Discounts program.
Member Discounts products and services are supported by contracts between IEEE and providers, vetted by the professional staff and volunteers.**
Member Discounts help to support the personal and professional needs of IEEE members throughout their careers, and are portable when they change employers.
Not all Member Discounts insurance plans and product discounts are available in every country; however, members can find many benefits available in a number of countries, with more being added each year. In fact, the insurance program now spans 84 countries!
Member Discounts are promoted at no cost to any member and more than $5.3 million in annual non-dues revenue from these programs benefit members worldwide.
Discover what IEEE Member Discounts can offer you. The Member Discounts portfolio consists of insurance products and programs for the home, office and travel, all at excellent group rates and reduced pricing. Visit IEEE Member Discounts to see what's available in your location and enjoy the savings.
** We can assist with developing local benefits, too. Contact L.Koblin@ieee.org for more information.
---
You have received this mailing because you are a member of
IEEE Orlando Section
.
To unsubscribe from section/chapter eNotices, please log into eNotice subscription form.
If you need assistance with your eNotice subscription, please visit: https://supportcenter.ieee.org/.
---